Find Toy Pomeranian for sale near you today
Looking for Toy Pomeranians or Miniature Pomeranians for sale? Look no further than our reputable breeder network. We offer a wide selection of Toy and Miniature Pomeranians for sale, all bred to the highest standards of health and temperament.Our Toy Pomeranians and Miniature Pomeranian for sale in a variety of colors and coat patterns, from classic cream to sable, black and white, and more. Each of our puppies comes with a health guarantee, vet check, and age-appropriate vaccinations and dewormings.
If you are interested in purchasing a Toy or Mini Pomeranian for sale, please browse our available puppies and contact us for more information. We are happy to answer any questions you may have about our Pomeranians, and can help you find the perfect furry companion for your family.
What are toy Pomeranian puppies
Toy Pomeranian puppies are a small breed of dog that are a variation of the Pomeranian breed. They are typically smaller than regular Pomeranians, weighing between 3 and 7 pounds and standing around 6 to 7 inches tall. Toy Pomeranians have a fluffy coat that comes in a variety of colors, including white, black, cream, orange, and sable.
These puppies are often referred to as "toy" Pomeranians because of their small size. They are a popular breed among people who are looking for a small and cuddly companion. Toy Pomeranians are known for their friendly and playful personalities, and they make great pets for families, individuals, and seniors alike. However, it's important to note that Pomeranians, like all dogs, require proper care, training, and attention to ensure they stay healthy and happy.
About Flint
Flint is a spunky little blue eyed boy who loves barking and biting his sisters tail. He's super loving and falls a sleep in your arms. If you have been searching for the perfect Pomeranian puppy, your search is over because this little guy is everything and more! Don't hesitate to call today and make him yours forever! He cannot wait to meet you and give you kisses!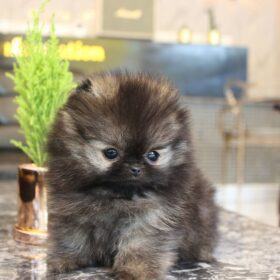 Male
Status: AVAILABLE
11Weeks old
Toy Pomeranian puppy
Accepting deposits
AKC registered
Health guarantee
Current on all shots
Micro chipped
All paper work available
Kids Friendly
Other Pets Friendly
Shipping Available
Price Discounts When you buy more than one Puppy